For Sylvie, Friday is barbecue time with her friends
To ensure a successful party, nothing could be more simple!

A woman that's full of life, Sylvie works in press relations. Often working outside of the office, she has lots of meetings. Knowing how to find people, talk to them, find out what interests them... it's more than a job, it's a passion. She has recently turned her garden shed into an outdoor kitchen.  So, tonight is the big night! Friends, acquaintances who are curious about what's been going on... Sylvie has invited them all together to have a barbecue. To make sure her guests have a time to remember, here are her secrets...

First of all, you need to get out the garden table. A large table to make everyone feel at ease. When she bought it, Sylvie liked the small details... She chose a particularly sociable style of table that already had appetizer trays directly set into it ! From ice cubes to petits fours, there's a place for everything. With the table in place, all it needs now is a quick wipe over with a cloth. All she needs to do now is lay the table. And for this, Sylvie adds a little extra, a mini garden. On the table, she places pots of basil, chives, mint... This way, everyone gets to add to their own meal with whatever they fancy picking !

To create a nice atmosphere, all you need to do is add colour. Sylvie begins by hanging a few pennants. She adds three light garlands reminiscent of Parisian "guinguette" establishments to create some soft lighting once night falls. And what better way to brighten up the place than to use plants ? Potted in pretty, bright containers, she puts her orange tree on one side of the table and her yucca on the other.

The advantage of having a barbecue is that everything is prepared at the time and there is nothing more to do. Sitting in her summer kitchen, Sylvie enjoys a moment of calm before the frivolities commence and with a flick of a switch, lights up her garlands... Perfect! She admires the garden, this new reception "room" of hers that's fast becoming one of her favourites in the house. Ah... the doorbell rings !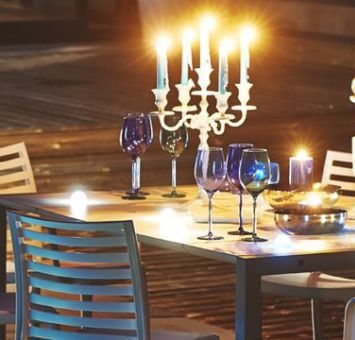 The Grosfillex products presented in this article